ERP aids in the automation and integration of many organizational operations. It consists of many modules that offer correct data to multiple users in real-time. ERP for Educational institutions efficiently manages their administrative and academic tasks. It contributes to maintaining the necessary level of rapid communication and operational clarity. It is an easy-to-use software that automates and streamlines classroom activity. With its deployment at both the root and upper levels, the education business has been revolutionised significantly.
ERP solutions have already proven their effectiveness in managing an organization's resources in the most integrative manner feasible. It is critical in the automating of many operations. Institute or School Management ERP Software assists educational institutions in maintaining a smooth administration with fair operations and timely communication.
The Growing Demand
Every year, a significant amount of information from numerous processes needs to be gathered and correctly managed in educational institutions. You can efficiently save and manage this data in real time with the use of Institutional Management System software.
Management of Data
The administrative staff of a school or institute must maintain a massive quantity of data for external reporting. They must guarantee that the data is saved and provided in the proper format to the governing bodies in order to get paid for admissions issued under various government initiatives. In this regard, ERP systems have proven to be a lifeline.
The institution's human resources, payroll, and financial processes may all be controlled using a single piece of software. Various reports for assuring compliance with government rules may be prepared in minutes. Furthermore, because paper-based records are no longer required, institutions save significantly by reducing needless expenditures.
Intuitive Admission Process
Any individual can tell you that the paper-based application process is among the most difficult, error-prone, and time-consuming aspects of any education system. However, when an educational institution introduces the online educational management software the industry has to offer, the admissions procedure is simplified as that has never been.
The greatest admission ERP system will be capable to digitise and automate the whole admissions process, taking over and streamlining the entire process.
Academic and Administrative Management
Academic and administrative responsibilities encompass all key functions in the institutional process. It is essential for the success of contemporary institutions that these activities be evaluated and checked on a regular basis for each stakeholder. An ERP system may be a very beneficial tool in this situation since it controls all academic and administrative procedures for all stakeholders on an individual level.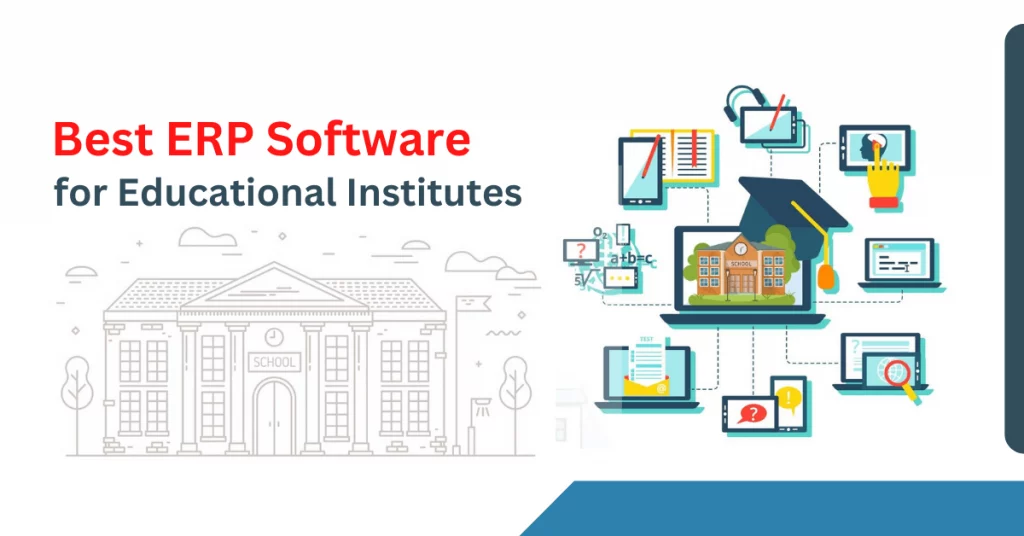 An effective ERP system allows administrators and other users to obtain the information they need for any operation. It is because an online school &institute management software was created to efficiently perform such a complicated procedure. It automates the entire process and decreases the likelihood of mistakes, chaos, and confusion, resulting in better efficiency in all areas.
Cost Efficiency
The economic element is perhaps the most obvious advantage of implementing ERP in education. Saving on the number of man-hours allows you to save a lot of money. Basic campus administration needs a large number of people to handle things like fee collecting, the arduous admissions process, and so on. When all this management is carried out through an online school & institute management software, a lot of money is spared in the financial industry that may be used for other things.
Enhances Parental Control & Involvement
Since everything is online and digitized, parents can also enhance their involvement in their child's educational journey. Through online ERP software, parents can engage with their school activities and performance anytime and anywhere.
Easy fees payments and tracking
One of the strenuous activities of any educational institution is fee management and tracking it appropriately. Since managing and tracking fee payments may prove fatal if any error is made.
Fortunately, ERP software has eliminated this drawback and automated the whole process by easy tracking and recording. Therefore, with fee management modules, educational institutions can easily manage, track, and record financial processes. This is an added advantage of having ERP for Educational Institutions
Conclusion
Thus, the integrated approach of ERP Software for Educational Institute is beneficial as well as cost-effective for any organization. The Centralized view of the entire organization in the dashboard, with all the relevant information, available at any time and place makes it indispensable. Real-time data analysis, with one click option, makes it the need of the hour. This software has numerous additional modules that can help you save plenty of time and money. Educational Institutions can thus devote their full attention to implementing School & Institute management software and benefit from overall improved performance.