The educational sector is a significant contributor when it comes down to the global economy. Institutions may now employ advanced technologies to enhance their educational programs and speed up their processes. With technology by their side, institutes can easily organize and perform all activities more effectively. Dedicated institute management ERP software can help education institutes on multiple levels.
The system assists in making its instructional curriculum more usable, accessible, and approachable. Management systems have already impacted how lecturers and students interact at institutions. The influence is also seen in the productivity of the entire institute. Ditching the need for manual paper-pushing jobs, an ERP system automates processes and increases the overall efficiency of the staff.
Since the number of students, teachers, topic streams, and tests is high, improving management is a crucial concern. Admission, attendance, students, human resources, payroll, and other areas all require robust management. But how does institute management software help? What exactly are the modules of an institute management system? Who can benefit from these institute management systems?
Today we'll be discussing all the different types of modules of an institute management system and explore how they can help in increasing the overall efficiency of an institute. Let's dive!
Top 10 Modules Of An Institute Management System
An institute management system software is used to manage the operations of a school, college, or another type of educational institution. They significantly contribute to the increasing productivity of a system and reduce the need for manual effort.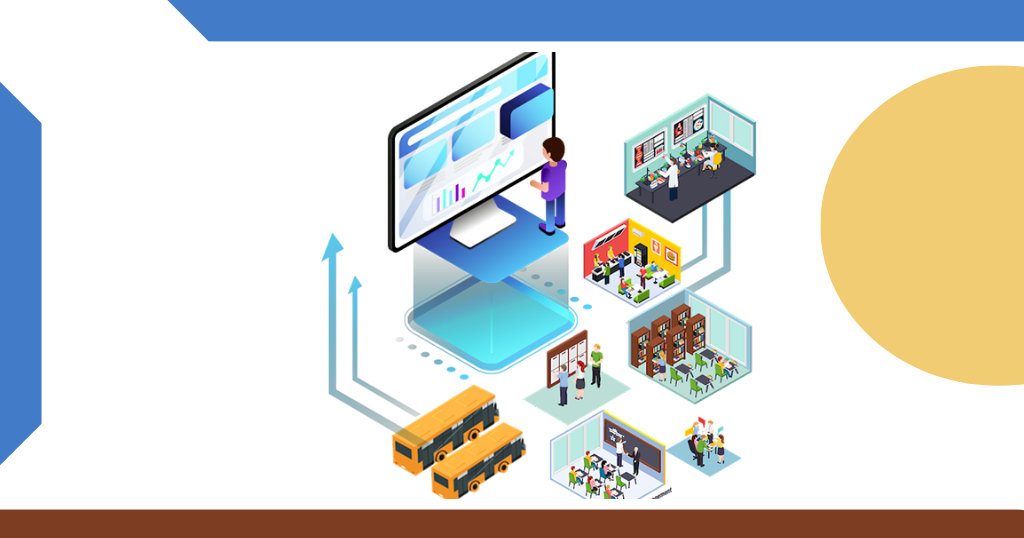 Below are the ten most sought-after modules of an institute management ERP system that you must consider before making a purchase!
Admission Management
This is one of the most integral institute management system modules that bring the entire admission process online, allowing for online registration and application form submission. Additionally, it also offers a provision for submitting relevant supporting documents that make the entire paperwork easier.
Common processes in the admissions process at educational institutions include inquiry, form sale, form submission, application, document submission, shortlisting, examination, and counseling.
Admissions to higher education institutions are becoming increasingly difficult. A dedicated institute management system helps to combine all of the aforementioned procedures into a single module, making the academic workers' and institutions' lives simpler.
Course Management
Enrollment in several programs and courses at the same time must be smoothly managed by higher education institutions. However, keeping track of all the programs and courses with student registration information manually might be time-consuming.
Using ERP software for educational institutes can help you manage your institution's multiple programs and enroll or remove students as required. One of the most important modules in an institute is program and course administration since it creates and manages the wide variety of programs and courses offered by other departments.
Examination Management
Examinations are a task in itself, with several pre- and post-examination processes involved, such as choosing the test day, deciding on the exam location, assigning staff, deciding on the assessment method, scheduling the exam, announcing and disseminating the results, and so on.
The examination module of an institute management system software includes a number of features that attempt to increase the effectiveness of the examination process. With a dedicated IMS, you may also select the type of marking you want to use.
Administration
The only way for contemporary educational institutions to manage and organize all processes in a more logical and efficient way is through automation.
The management of various certificates, papers, and files consists of components that enable the administrators of the entire institution to conduct all processes automatically, obviating the need for human labor while increasing flexibility and simplicity. With institute management ERP, educational institutes also have the option of managing the administration of certifications.
Fee Management
This is one of the most important modules of institute management ERP that must be administered well. Employees, administrators, students, and even higher-level officials regularly struggle to receive accurate information on fee collection, submission deadlines for each student, penalty dates, and other fee-related information. Students, on the other hand, find it difficult to balance all of their fee-related activities with their study time.
Having a dedicated fee management module in place is likely to make your ERP system even more powerful. It tends to take the additional burden off your shoulders and manages the fee-related processes error-free.
Payroll Management
Payroll management is the most crucial module among all the institute management system modules. It controls the monthly salaries of all faculty members and has a significant influence on the overall expenditure of the institute.
An ERP system helps you better track the payroll status of all professionals and ensure there is no discrepancy across the institute.
Staff Management
Faculty members or teaching staff can devote more of their time, effort, and creativity to academic tasks when student records, admissions, programs and courses, exams, and administration tasks are efficiently managed.
Through institute management ERP, teachers tend to use more creative teaching techniques as a result of the implementation of new technology, and students participate more actively in class, which boosts the overall productivity of the system.
Library Management
The main objective of any library system is to collect, organize, store, retrieve, and make information sources accessible to information consumers. All necessary and significant elements are included in this straightforward project.
With the software in place, it is no longer required to spend hours manually looking after large data records and updating them on a daily basis. This saves considerable time for the faculty and makes room for streamlining processes.
Attendance & Leave Management Module
One of the most essential institute management system modules of every educational institution in attendance. Every institution, from the smallest elementary school to the biggest institute in the world, must conduct an attendance process for its workforce, including administrative personnel.
Even after all of the time, effort, and labor put into the manual attendance procedure, which is rather extremely time-consuming, there are still a number of mistakes, issues, and phony attendance records. A streamlined and organized attendance procedure that supports the optimum automation can be provided by an automated attendance & leave management system.
Transport Management
With the help of the transport management module, you can keep track of the type and cost of fuel, build a list of the buses that are now available, configure the bus zones and routes, and monitor the bus types. Create and maintain records of the names, contact details, and additional information for all drivers and co-drivers.
Conclusion
In the pursuit of automation and digital transformation, educational institutions must pick a top-notch institute management ERP system that can assist them in implementing automation for all crucial duties and operations, making the administrative and academic processes flawlessly streamlined.
Proctur's comprehensive ERP system offers an array of versatile and adaptable features that assist several institutions with digital transformation and automation.