Why do you need smart online classes?
The concept of learning has changed drastically over the years. You no longer need to physically attend a class to get lessons. Smart Online classes have forever changed our perception of learning. There is an increasing demand for such classes, thanks to the convenience they offer.
There are a plethora of persuasive reasons to choose smart online classes. The following are two major reasons that perfectly explain why they are needed.
1 – Flexibility
Flexibility is the most prominent benefit of smart online classes. A coaching institute management software that allows teachers and students to set their own schedules and partake in lessons from the comfort of their homes is a luxury traditional classes simply cannot offer.
2 – Cost and Time Efficiency
By being able to conduct or access lessons from anywhere in the world, such apps help save time and money. All you need for smart online classes is a good internet connection and a compatible computer system.
Key Features of Smart Online Classes
For a coaching management platform to deliver quality online classes, it must harbour certain essential features. They are as follows.
1 – Built-in Video Conferencing App Integration
Smart online classes are pretty much useless if they aren't able to conduct live classroom sessions online. As such, you need coaching software that allows video conferencing to help teachers and students partake in live lessons online in real-time.
2 – Online Exams
It should be incredibly simple to schedule exams online, manage attendance, grade student performance and generate comprehensive reports out of them.
3 – Assignment Tracking
Good coaching software will allow teachers to assign tasks to their students with the added privilege of tracking those assignments in real-time.
4 – Student Database Management
Teachers have a lot on their plates. On top of that, they also have to manage a database pertaining to their students' key details. Coaching software can digitize the entire process, with information being stored in a secure data centre online.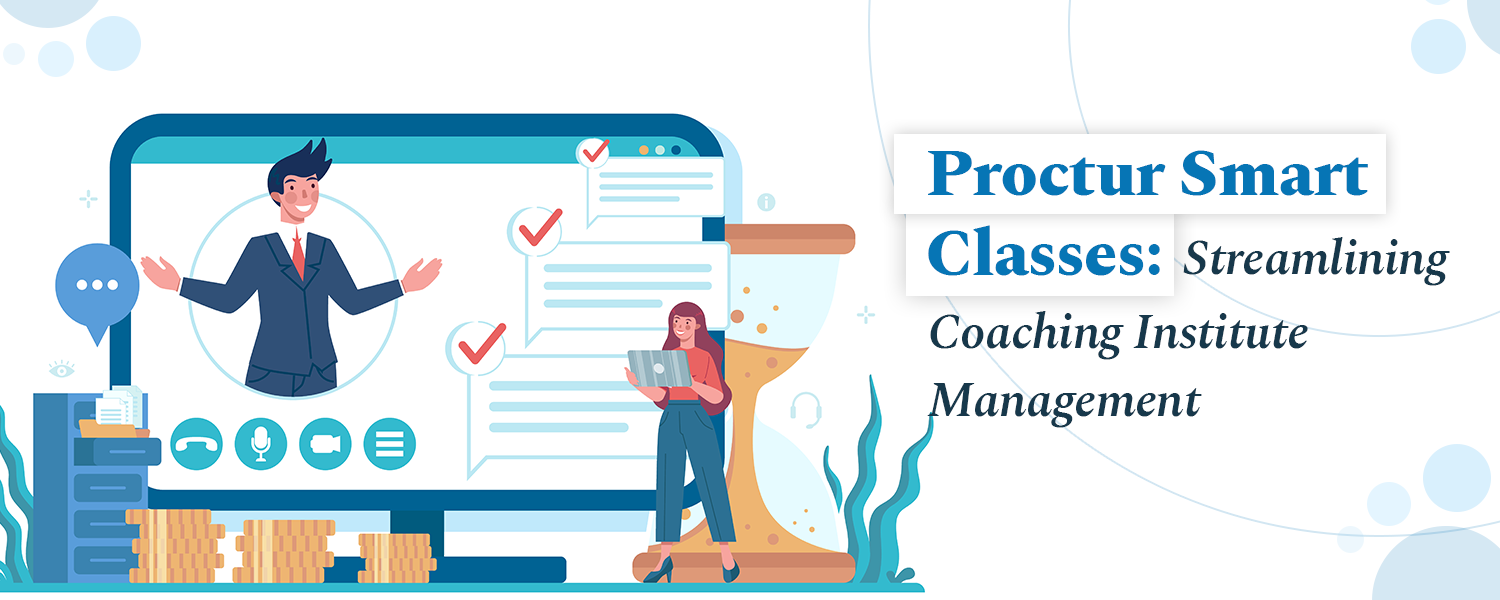 Key Benefits of Proctur's Smart Online Classes
A great coaching platform will come loaded with the above features and much more. This is exactly what you get with Proctur's smart online classes. Following are some key benefits of the software:
● Take your coaching business online by digitizing and automating all key aspects of your institution's daily operations.
● Teachers can conduct classes online and students can participate in them from the comfort of their respective abodes.
● As the app comes integrated with Zoom, teachers and students can connect with each other in real-time, thus communicating over the internet in a fashion similar to traditional classroom sessions.
● Our app can help you conduct mock tests, practice tests, and other types of tests online.
● The app can help teachers conveniently assess student performance in exams and generate comprehensive performance reports.
● You can build custom inquiry forms and digitize the otherwise arduous admissions process.
Suffice to say, with Proctur you get a coaching management platform that helps you conceptualize and spearhead smart online classes.