How does an online class attendance system play an important role in online
teaching?
There was a time not long ago when schools and colleges used to maintain hard copies of their student's attendance. This arduous task was necessary and had to be conducted daily to identify which students were attending the classes and who were absent. Thanks to the advent of technology and the introduction of online LMS solutions, that is not the case anymore.
Imperative data pertaining to not only attendance but also other relevant information regarding students can be digitalized and stored in secure databases because of the online attendance system for students are helping education institute with that. In fact, the online attendance system for students is an integral part of eLearning today, allowing schools and coaching institutions to conduct classes and examinations over the internet.
Some of the best online attendance software understand how burdensome and tedious the task of data management can be, especially when it concerns handling overwhelming amounts of student and staff data. Such software automates the process entirely, allowing for efficient management and monitoring of attendance information.
Best Way to Manage Attendance in Real-Time
Aside from automating and streamlining the entire process, a good student attendance management system will allow you to handle attendance in real time. This is precisely what Proctur's online attendance software does. Our software facilitates two types of attendance systems. You can manage attendance day-wise or subject-wise as per your wish.
Whatever changes you make to the system will be updated and available to witness for concerned parties like parents, students, and teachers in real time. As the entire attendance process is taken online, authorized users can access this information anytime, from anywhere via a compatible mobile and computer device.
Regardless of who wants them, if the student, teacher, or school administrator has authorization, they will have access to detailed attendance reports. Rest assured these reports are stored in secure data centers, and as such, are impervious to damage and theft. All information presented is up-to-date as these databases can be managed and updated in real-time.
Core Benefits of Class Attendance Management
There are several benefits to taking your student attendance management system online. The most prominent of these are listed below: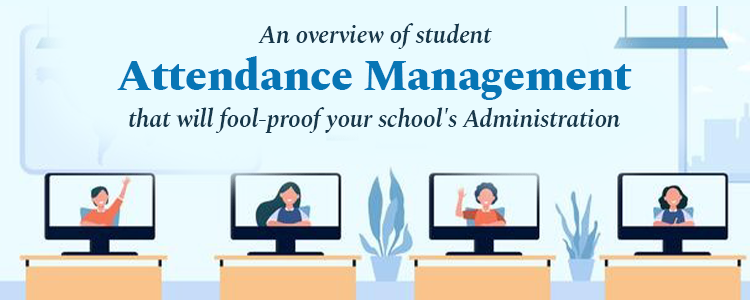 1 – Centralized Data Management
Teachers can track and process their student's attendance data via a single unified system, thus ensuring a more productive, error-free attendance management process.
2 – No Mistakes
With the attendance system automated, issues such as double entries or erroneous data entries are completely eliminated. As such, what you get is accurate student attendance data.
3 – Remote Access
Perhaps the most compelling advantage of digitizing the attendance process is the convenience it grants teachers and staff members, who can now access data remotely from anywhere via their computer devices.
4 – Easy report generation
The maintained data can be tracked by authorized users in real time and can be leveraged to generate comprehensive detailed reports. For instance, Proctur's online attendance management software generates reports that present attendance data in a daily or subject-wise manner.