School management entails a great deal of responsibility and can be overwhelming for any school administrator. With the help of effective ERP software for school management, tasks such as student registration, attendance tracking, fee management, and other administrative duties can become a cakewalk.
This blog post aims to provide an overview of the main modules or features in school management ERP systems and how they can help streamline processes in your institution.
Starting from Transport Management to Academics and Finances, we will discuss each module in depth and explain why it is important for any school administration. But before that, let's grab a brief overview of an ERP system.
A Closer Look at ERP Software for School Management
A school management ERP system is a comprehensive and integrated software solution designed to streamline the day-to-day operations of schools. It provides an easy way for administrators, teachers, and students to manage their activities in one centralized system.
The software helps automate school processes like student registration, attendance tracking, fee payment, scheduling classes and exams, managing library resources, and much more. It also offers robust reporting capabilities to help administrators make informed decisions about the school's future.
With dedicated school management ERP software, schools can efficiently manage their operations while reducing costs and increasing productivity. Below are some of the most highlighted modules of school management ERP software!
1. Course Management
Course management is a central component of any school management ERP system. It enables schools to plan and organize their courses, track student progress, and manage course-related data.
By automating course administration processes, schools can free up staff time for more important tasks, such as teaching and providing student support. In addition, course management features can help schools improve communication with students and parents, ensuring that everyone is kept up-to-date on the latest information.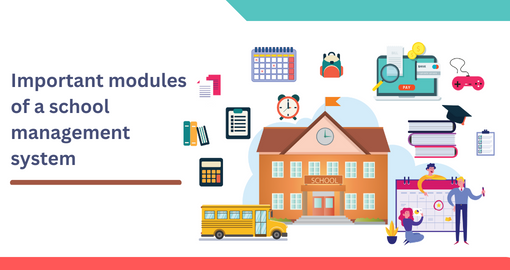 2. Fee Management
The fee management system is an important module of the ERP software as it takes care of all the fee-related transactions of the school. It keeps track of all the students' fees and provides a way to manage late payment charges. The software also has a built-in mechanism to generate fee receipts.
3. Transport Management
An effective ERP software for school management must include a module for managing transportation. This is necessary to ensure students' safe and efficient transport to and from school. The transport management module allows for the tracking of vehicles, routes, and schedules. It also provides information on driver safety records and maintenance histories.
4. Accounting
A school management ERP system is complete with a module for accounting. This is because all schools need to keep track of their income and expenditure and produce financial reports on a regular basis. The accounting module in a school management ERP system will help users do all this easily and efficiently.
Some of the features that are typically included in an accounting module are:
● A general ledger that can be used to track all financial transactions
● The ability to generate invoices and regularly track payments
● Reports that give an overview of the school's financial situation
5. Integrated Student Information Portal
The Integrated Student Information Portal is an important module of the ERP software. It helps in managing the student's data and information in a centralized manner. All the data related to the students, such as their personal details, academic records, and financial information, can be accessed and managed through this portal.
This module also allows administrators to communicate with the students and parents easily. They can send out notifications and announcements through the portal. It can also be used for managing online admissions and registrations.
6. Parent App
The parent app is one of the most important school ERP modules of the ERP software and is used by parents to keep track of their child's academic progress and activities. The parent app helps parents stay connected with their child's school, teachers, and administrators. It also provides them access to real-time notifications about their child's attendance, grades, assignments, tests, and more.
With the help of this app, parents can easily monitor their child's academic performance and take timely actions if necessary. Moreover, it also allows them to communicate with other parents in the same school or district. Thus, the parent app is an essential part of any ERP software that helps make parents' lives easier while ensuring that they are always up-to-date on their children's educational progress.
7. E-Learning
This is an essential component of the ERP software for school management since It helps streamline the entire learning and teaching process by providing a comprehensive platform for teachers, students, and parents to interact with each other.
With the assistance of this essential module, teachers can easily create and manage online courses, assign tasks to students, evaluate their performance, and track their progress over time.
Moreover, the E-Learning module also allows parents to keep track of their children's educational progress from anywhere in the world. This makes it easier for them to stay connected with their children's education even when they are away from home.
Bottom Line
Implementing a dedicated ERP solution is integral for effective school management. It helps you take better control of all the different processes and encourages a seamless operation.
Another highlighted advantage of a school management ERP system is the high cost you save by increasing your team's overall productivity. Proctur's exceptional ERP systems have been helping several institutions improve their management and get higher gains in the long run!