A serial entrepreneur who is contributing to various startups with 16+ years of experience in leading technologies.
India is one of the fastest developing countries in the world in terms of technology, and the effects are felt not only in the business sector but in the education sector as well. India currently has approximately 560 million internet users and the number is growing at an exponential rate. The availability of the internet has changed the way of life in the country in a massive way. From working to shopping to networking to learning, people are doing everything online. E-learning has, therefore, become one of the fastest-developing industries in the country.
The e-learning market which stood at $247 million in 2016 is now expected to reach $1.96 billion by the end of 2021. That is a mind-blowing CAGR of 52%! While the sector was already growing at a rapid pace, the Covid-19 pandemic has further catalyzed the phenomenon. Now that most schools, colleges, and other educational institutions are closed to ensure the safety of students, e-learning has emerged as the primary learning model in the country.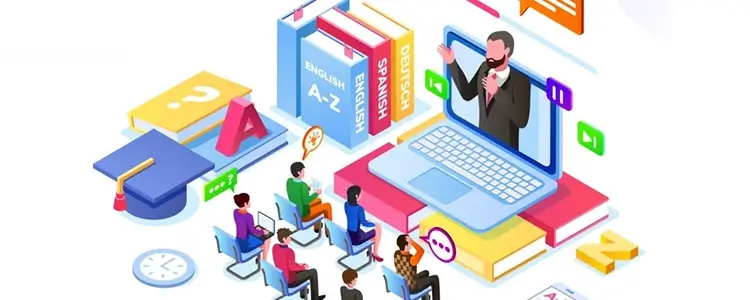 Many institutes have already declared that even after the pandemic subsides, they would continue with Blended Learning. It is a learning model where the syllabus is taught partly online and partly offline. and we also help in eLearning by providing online teaching platforms in India. It helps schools and colleges to keep the crowd inside classrooms to a minimum, which is vital in the context of the present scenario. While many of the educational institutions, as well as students, resorted to e-learning reluctantly, they're now realizing the plethora of benefits that it brings to the table.
Advantages Of E-Learning Helps Overcome Geographical Limitations
With e-learning, the dissemination of education is no longer limited to geographical location. All you need is a laptop, a smartphone, or a tablet with an internet connection, and you can get access to a ton of study material from the best educational institutions. This flexibility also helps working professionals pursue higher certifications to update their skill sets. Previously, they often had to delay such things because it meant taking time off work. However, with e-learning, they can learn from the comfort of their office or home.
It Saves Time And Money
E-learning is not only more efficient as compared to classroom learning, but it is highly affordable as well. In today's time, you can pursue online courses from the most prestigious universities at highly affordable rates. It has opened the door to education for many candidates who have to take into account financial constraints while pursuing their careers. Also, since the students can pick and choose what they want to learn and when they can save plenty of time as well.
"With e-learning, the dissemination of education is no longer limited to geographical location. All you need is a laptop, a smartphone, or a tablet with an internet connection, and you can get access to a ton of study material from the best educational institutions"
It's A Boon For Teachers Too
E-learning doesn't just benefit the students; it benefits the teachers as well. Despite the technological breakthroughs that have happened over the past century, the education system has remained relatively traditional and unnecessarily labor-intensive ­, especially for teachers. With the technologies that we have on our hands, there is no need to check answer sheets or take attendance manually. A computer program can do these tasks more easily and efficiently ­ freeing the teacher to focus his/her time on devising interactive ways of teaching.
Instead of spending resources on developing exam centers, printing question papers, and hauling answer sheets from here to there, educational institutions can implement Computer-Based Testing (CBT), which is a more efficient and affordable way of assessment.
Allows You To Learn At Your Own Pace
No two students learn at the same pace. However, a classroom environment forces every student to learn at the same pace. It means that while some students find it easy to follow the lectures, others have a tough time doing so. With e-learning, however, every student can learn at his/her own pace since all the study material is available permanently in one place.
The Challenge
The biggest challenge for the e-learning industry in a country like ours is the lack of technological penetration in rural areas. While people dwelling in urban areas can benefit from e-learning, those residing in remote areas are deprived of it. It creates a disparity in the level of education that students of the same age group receive. The government has launched several initiatives to fast-track the technological development of Indian villages and they may bridge the gap between urban and rural education.
Conclusion
E-learning has shown tremendous potential for transforming the education industry in the country. With the emergence of new e-learning platforms and the growing competitiveness among them, we may see better content, better tools, and better teaching strategies shortly. The digital transformation movement is gathering momentum and to stand tall in a digitally driven world, we need to embrace the change. While it may seem daunting to do away with traditional methods in favor of new ones, doing so will only help us benefit in the long run.