To provide a seamless experience of online live classes to the students as well as teachers Proctur brings to need you attendance notification feature in Online live classes.
With this new feature students/parents or guardians can be notified about their attendance through sms or email.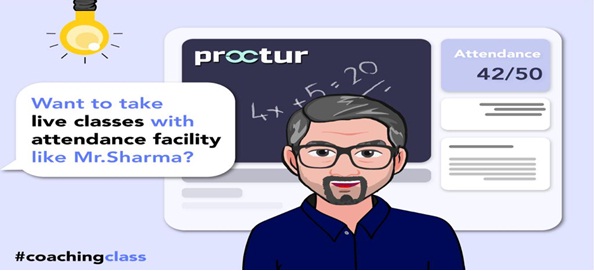 Proctur Live Attendance Notification Feature for Online live classes
Below are some useful notifications which can be sent by just enabling few options in the live class notification setting.
Present – A student will be marked present when he/she attends the online live class for more than a fixed percentage duration which is set by the admin or the faculty.
What is Attendance Threshold?
This is a percentage duration for which the student to be marked as present will need to be present for a percentage duration larger than this attendance threshold. This threshold can be set by the admin.
Absent Notification
By enabling this feature, you can send an automated absentee notification to students/parents/guardians.
Partially Present Notification 
Partially present notification will be sent when the student was present in the live class for a time duration less than or equal to the attendance threshold duration.
This feature allows you to track and notify that a student was not present for the live class for the full time.
Stat Notification
This feature allows you to get information on how many students and guest users attended the online live class.