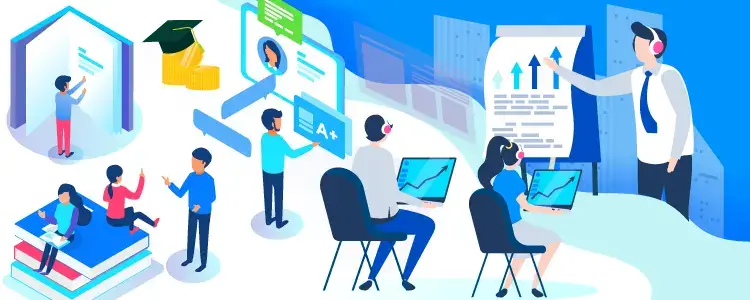 The vision of the New education policy in brief
The policy will focus on providing quality education and aims to build an education system rooted in Indian ethos that directly contributes to the transformation of India.
The policy envisages holistic development of students where they develop a deep sense of respect towards fundamental duties, constitutional values, and awareness of one's role and responsibilities.
Also, the new education policy will focus on Instilling the spirit of India among the learners to create a deep-rooted pride in being Indian as well as develop knowledge, skills, and values that develop true global citizens. and new educational policies are also covered by institute management system software that is used by an educational institute for effective management.
Highlights of the policy
School education segment
In early childhood care and education, the overall aim will be to attain optimal outcomes in the domains of:

Physical and motor development
Cognitive development
Socio-emotional-ethical development
Cultural/artistic development
Development of communication and early language, literacy, and numeracy.

Immediate measures will be taken on improving foundational literacy and numeracy.
There will be various initiatives that will focus on curtailing dropout rates and ensuring universal access to education at all levels.
The policy will aim to make such a curriculum and Pedagogy in Schools that will aim to make learning Holistic, Integrated, Enjoyable, and Engaging.
The 10+2 structure in school education will be modified with a new curricular re-structuring of 5+3+3+4 covering ages 3-18 years.
Higher education Segment
The policy aims to make quality universities and colleges which would in turn develop good, thoughtful, well-rounded, and creative individuals.
The main thrust of this policy is to build large multidisciplinary universities and end the fragmentation of higher education by transforming higher education institutions into large multidisciplinary universities, colleges, and HEI clusters/Knowledge Hubs, each of which will aim to have 3,000 or more students.
By 2040 the policy aims to create all higher educational institutions which would become multidisciplinary institutions and shall aim to have larger student enrollments preferably in the thousands.
The policy will strive towards planning and implementing a More Holistic and Multidisciplinary Education.
Optimal learning environments and support for the students are other aims that the policy focuses on.
In order to achieve this faculty and institutions will have the autonomy to innovate on matters of curriculum, pedagogy, and assessment within a broad framework of higher education qualifications.
Impact of the new education policy on educational institutes
Now as the new education policy has been proposed and approved the teachers are going to be in the driver's seat of the change in the current scenario.
More focus on learning outcomes
There is going to be lesser importance on exams and more importance on learning outcomes. This will motivate teachers to design their teachings focused on outcomes other than marks. Teachers who give emphasize conceptual clarity and understanding will gain more importance.
Will need more offerings toward holistic development
Education policy focuses on the development of cognitive capabilities and social, ethical, and emotional capabilities. Due to this importance of teachers who think about and provide holistic development will definitely have an extra edge.
Change in teaching strategy
Focus on Learning how to learn will add another dimension to the learning process and teachers will have to be cognizant of how they can inculcate better learning practices in students.
Impact of Introduction of technology and new technology based courses
Extensive use of technology in teaching will become necessary not only for educational planning and management but also for delivering content and engaging students in a better way.
Coaching institutes will have to adopt new technology which helps them create offerings that stand out to compete with schools that will be geared toward this technology.
New offerings and More Collaboration
Coaching institutes will have to create new offerings for students in terms of more subjects and newer teaching and assessment techniques.
As students will opt for newly introduced subjects they will need coaching in these subjects which indicates that a coaching institute that offers a wide range of courses will get more attention.
Change in Outlook of Coaching institutes
Teachers in coaching institutes will have to change their outlook and develop teaching strategies which will improve students' conceptual clarity and develop cognitive abilities.
Impact due to changed assessment methods
Tutors will have to be cognizant of the assessment methods that will change and will have to train students to excel in these new assessment methods. This will include a more formative style of assessment rather than summative assessments.
Suggestions
School Segment
In the school segment, the teachers should anticipate and train for the new curriculum structure of 5+3+3+4.
Schools will need to prepare themselves by providing shorter modules or courses that are taught on alternate days to provide greater flexibility and enjoyment of a wide range of subjects.
Teachers will need to prepare and train themselves for the new outcome-based learning and teaching instead of rote learning.
Teacher eligibility tests will be strengthened to inculcate better test material both in terms of content and pedagogy which means aspiring teachers will need to do a comprehensive preparation for these tests.
Board exams will be redesigned to encourage holistic development which will eliminate the need to take private coaching which will bring back the importance of school teachers.
As the high stakes of exams will be reduced or directed towards learning outcomes we suggest school teachers to change their approach towards both learning and teaching.
Higher education segment
As the new education policy aims to create large multidisciplinary institutions Colleges will have to plan in advance to serve multidisciplinary courses and should create suitable physical and technological infrastructure.
The Colleges will become places for conducting intensive research and development in the faculties they operate which suggests the colleges should promote research and development right away to attract prospective students
Colleges can start online and distance learning programs in order to enhance their offerings, improve access, increase GER, and provide opportunities for lifelong learning.
According to the new education policy colleges should march towards becoming a home to Professional and Vocational training.
To become large multidisciplinary institutions universities will need to create favorable infrastructure(physical ad technological) that could serve a large number of students simultaneously.
Informal education
As the new education policy plans to eliminate the high stakes of board exams coaching institutes will need to rethink and redesign their educational offerings.
These new offerings should stand out, and provide ample learning value which would compete with the proposed educational offerings by the government.
While the Board exams for Grades 10 and 12 will be continued, the existing system of Board and entrance examinations shall be reformed to eliminate the need for undertaking coaching classes.

As the policy directly tries to eliminate the need of undertaking coaching classes, from a business point of view coaching classes will have to create an appropriate need in the minds of their prospective students not only excel in studies but in life as well.
As the policy wants to discourage coaching culture the private coaching institutes will need to create a suitable culture in their institutes that attract and provides more value than the schools/colleges/universities.
View of the coaching institute fraternity
We spoke to many private institutions regarding the impact of the education policy and most of them are of the opinion that the even though new education policy is a great initiative they don't see a short-term impact on their operations. They believe that the coaching institute industry can benefit from it in the long run.